Guangdong Fareach Group won the "Huizhou Charity Model Award" in 2018-2019
---
On the afternoon of June 28, 2019, Huizhou City's "Guangdong Poverty Relief Day" ceremony was held in Huizhou city hall. Liu Xiaojun, the member of Huizhou Municipal Standing committee and party committee, secretary-general, and other officers, caring people, philanthropists, entrepreneurs, and relevant department or so 150 attended the ceremony.
At the ceremony, the municipal party committee and the municipal standing committee commended groups and individuals who participated in Huizhou charity and poverty relief positively. 39 groups and individuals were awarded charity awards in five categories. Guangdong Fareach Group won the "Huizhou Charity Model Award", which is the highest group award of 2019 in this ceremony.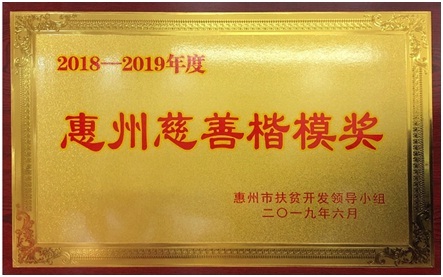 Huizhou Charity Model Award (7)
1. Country Garden Real Estate Group Co., Ltd.
2. Hong Kong Rising Sun Group
3. Guangdong Fareach Industrial Group Co., Ltd.
4. Huizhou Guangda Cement Enterprise Co., Ltd.
5. Huizhou Nangan Industrial Co., Ltd.
6. Excellence Real Estate Group Co., Ltd.
7. Huidong Country Garden Real Estate Development Co., Ltd.
---